A GENTLEMAN'S GUIDE TO LOVE & MURDER
Fred Meyer Broadway in Boise 2017/2018 - Click on the event title above for ticket information.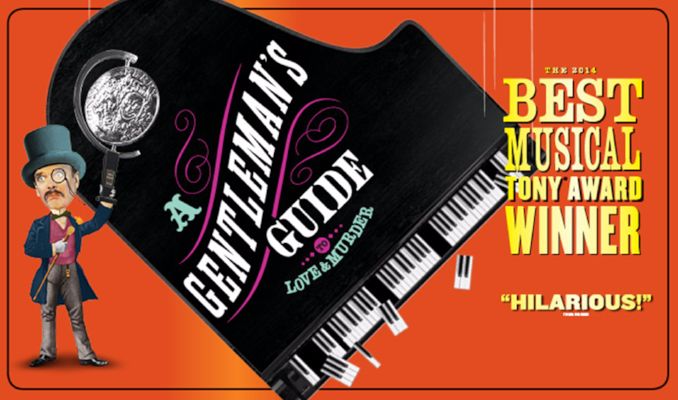 share
Event Information
Presented by the 2017-2018 Fred Meyer Broadway in Boise Season.
Individual tickets on sale is Friday, January 26, 2018 at 10:00 AM.
Discounted Group Tickets (10% off) are available for parties of 10 or more.
Advisory: Adult Language - PG13
Getting away with murder can be so much fun… and there's no better proof than the knock-'em-dead hit show that's earned unanimous raves and won the 2014 Tony Award® for BEST MUSICAL—A GENTLEMAN'S GUIDE TO LOVE & MURDER!
Coming direct from New York, where a most gentlemanly NPR critic said he'd "NEVER LAUGHED SO HARD AT A BROADWAY MUSICAL," GENTLEMAN'S GUIDE tells the uproarious story of Monty Navarro, a distant heir to a family fortune who sets out to jump the line of succession by – you guessed it – eliminating the eight pesky relatives (all played by one fearless man) who stand in his way. All the while, Monty has to juggle his mistress (she's after more than just love), his fiancée (she's his cousin but who's keeping track?), and the constant threat of landing behind bars! Of course, it will all be worth it if he can slay his way to his inheritance… and be done in time for tea.
The Hollywood Reporter raves, "GENTLEMAN'S GUIDE RESTORES OUR FAITH IN MUSICAL COMEDY" and The New York Times cheers, "IT WILL LIFT THE HEARTS OF ALL THOSE WHO'VE BEEN PINING FOR WHAT SOMETIMES SEEMS A LOST ART FORM."
ASL Interpretation will be provided for the Saturday, May 12, 2018 2:00 PM performance.
Please note:
When clicking through to the event at ticketmaster.com (the authorized ticketing provider for the Morrison Center) you may notice both blue and pink available seats. Blue dots are seats being offered directly by the Morrison Center. Pink dots are seats that are being resold using "verified resale" by private parties who originally purchased from the Morrison Center.
Read More
May 11 - 12, 2018
$35.00 - $62.50 (ticketing fees not included)