AMBROSE CHRISTMAS PROGRAM
Click on the event title above for ticket information.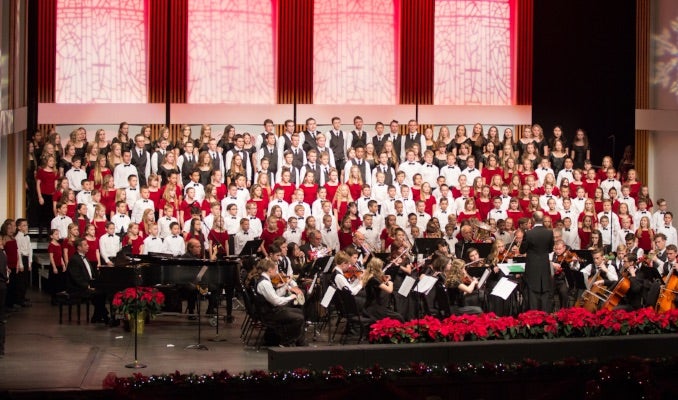 share
Event Information
Presented by The Ambrose School
The Ambrose School is a K – 12 classical Christian school from Meridian. They will be presenting a traditional Christmas concert featuring all K – 6 students along with the upper school choirs, orchestra, and special guests.
The concert is known for its traditional sounds of Christmas from the middle ages through the early 20th century. Orchestra, organ, children and youth voices create a beautiful evening of Christmas joy. This year's theme is 'The Gift of Christmas' reflecting the spirit of a season celebrating our Savior's birth.
Special groups performing include Cantavi (4th – 6th honors choir), Gaudeo (9th – 12th honors choir), violin and vocal soloists and guest professional string quartet. A full orchestra and all K – 6 students will also perform.
The concert will open with the old carol "Masters in this Hall" featuring tenor Nathan Phipps ('19), all singers, full orchestra, the Syringa String Quartet, our guest professional string quartet, and organ. The second piece, also featuring all combined musical resources, will be "O Little Town of Bethlehem," set in a traditional arrangement. Violinist Kelly Makela ('19) will be featured with a small ensemble playing "Fantasy on an English Folk Song (What Child Is this?)", Gaudeo will present "Caroling, Caroling" and we will conclude with the massed ensemble performing "Hallelujah" from Handel's Messiah.
Come celebrate the birth of our Savior on Wednesday, December 20 beginning at 7:00 pm. Invite family, neighbors, and friends to come enjoy this beautiful and stirring musical presentation featuring centuries of song performed by our students.
Read More
Thursday, Dec 20
7:00 PM
$5.00 & $30.00 (ticketing fees not included)