CANCELLED - BALLET IDAHO - LIGHT/DARK
Click on the event title above for ticket information.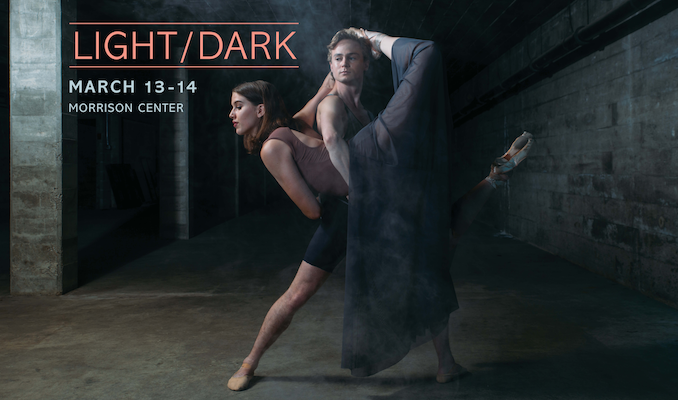 share
Event Information
Health Update for Light/Dark Ticket Holders
An Update from Executive Director Mulkey and Artistic Director Garrett Anderson
March 13th, 2020
After Mayor McLean's statement yesterday regarding the recommendation of postponing events with more than 250 people in attendance along with Governor Little's statement this morning recommending the same course of action, the performances of Ballet Idaho's Light/Dark which had been scheduled for March 13th and 14th have now been cancelled. The health and welfare of our patrons, artists, and staff is of utmost importance to us and we support all steps being taken to contain the spread of COVID-19.
Each of our artists and staff members have invested many hours in preparing this performance for you, and so in the spirit of the show going on we will be dancing two closed-to-the-public dress rehearsals and our film partner Front Runner Films will be recording them. Within the next two weeks all current Light/Dark ticket holders will be emailed a password protected link which will allow them access to the finished film for a limited time. The Velma V. Morrison Center for the Performing Arts, all choreographers, and others with copyright and licensing agreements associated with this performance are in support of this project and after the viewing of the final film intend to approve this limited time only experience to those of you who have already purchased tickets. Dance is our passion and while we may not be able to bring you to a performance this weekend, it would be our honor to bring Ballet Idaho into your home instead.
Our organization dedicates all available resources to the creation of our art, so we do not have a contingency budget to cover civil emergencies. Ticket sales cover approximately 35% of what it takes for us to produce our work. We would be grateful if you would as a result view this as an opportunity to support us by donating the value of your ticket to Ballet Idaho. Your gift would be treated as a tax deductible donation for which you would receive a receipt.
It is because of your passion for ballet and your unwavering support that we are able to continue creating, and we are so grateful for you during this time. Please stay tuned for more information regarding your Online Rehearsal Viewing Experience, and for donations or other questions please contact us at 208.343.0556 or email [email protected]. If you purchased online via Ticketmaster and would like a refund please call 1.800.653.8000 by March 20th. All funds that are not refunded by that date will be considered a donation.

Please note that if you purchased online, you will receive an email from Ticketmaster that the event is postponed. Please disregard that email.
Thank you for your support!
- Laura Mulkey, Executive Director & Garrett Anderson, Artistic Director
Read More
Mar 13 - 14, 2020
$38.00 - $61.00 (ticketing fees not included)