FRED MEYER BROADWAY IN BOISE 2019/2020 NEW SEASON TICKET REQUEST
Click on the event title above for more information.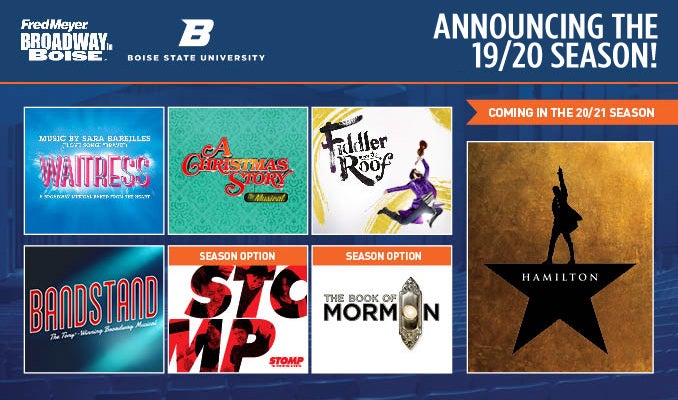 share
Event Information
Available online and in-person at the Morrison Center Box Office only.
Please be sure to review which package, and price level work best for you. This information is found in the Season Brochure (link below).
Seats will be allocated on a first come-first served basis. All new Season Ticket Holders will be contacted regarding seating options. New seating will not begin until after the current renewal period for existing subscribers concludes. Seating request does not guarantee seating - if a request cannot be seated the purchase price will be refunded.
Stomp and The Book of Mormon are not included in the 19/20 show package. Additional purchase required.
Season Ticket Holders accitional tickets and exchanges may be restricted for all shows in the 19/20 and 20/21 seasons.
A parking decal for the full season is included in your ticket price.
The price of each season ticket reflects the face value of tickets, applicable taxes, $35.00 in handling fees, and a total of $22.50 in parking/maintenance and facility fees.
Season Subscriptions, and all Tickets and Additional Tickets purchased under any Subscription, are subject to the Broadway Across America Standard Season Subscription Terms and Conditions posted on our website at BroadwayAcrossAmerica.com/SubscriberTerms. By purchasing a Season Subscription, you agree to such Terms and Conditions.
Read More
Friday, Nov 1
7:00 PM
P1 $395.00, P2 $395.00, P3 $350.00, P4 $305.00, P5 $235.00