JO JO JORGE FALCON
Click on the event title above for ticket information.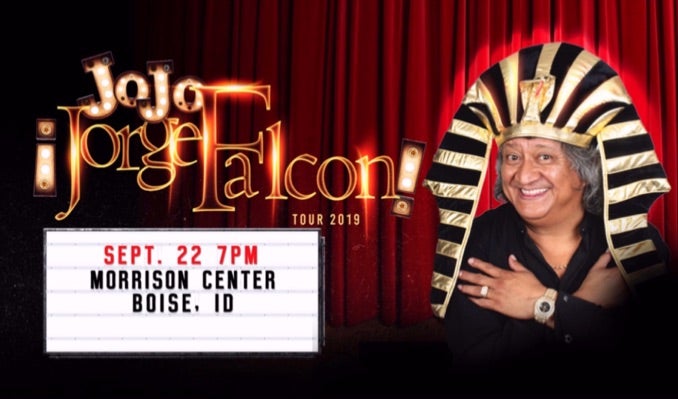 share
Event Information
Presented by: Illusion Touring Entertainment
Beloved Mexican comedian Jo Jo Jorge Falcon brings his signature comedic stylings to the Morrison Center for one night only! Known as the comedian of a thousand faces, he returns to the USA with an event for you to come and laugh with the whole family. Do not miss one of the legends of Mexican comedy!
A legend in the Mexican entertainment community, Falcon has been winning audiences over for three decades. Instantly recognizable with his shock of wild hair and sly smile, Falcon rose to fame headlining comedy clubs and theaters. He also gained popularity on the Mexican talk show circuit where he continues to entertain audiences with his unique humor. On stage, Falcon connects with audiences through his funny and at times, bawdy interpretation of everyday mishaps and stories. Falcon has also appeared in movies and released numerous comedy albums, including the multi-volume El Super Show Comico con Clasificacion Z and Los Mejores 99 Chistes series.
______
¡El querido comediante mexicano Jo Jo Jorge Falcon trae sus exclusivos estilos de comedia al Morrison Center solo por una noche! Conocido como el comediante de mil caras, regresa a los EE. UU. Con un evento para que vengas a reírte con toda la familia. ¡No te pierdas una de las leyendas de la comedia mexicana!
Una leyenda en la comunidad mexicana de entretenimiento, Falcon ha estado ganando audiencias durante tres décadas. Reconocible al instante con su pelo salvaje y su sonrisa astuta, Falcon se hizo famoso en clubes de comedia y teatros. También ganó popularidad en el circuito mexicano de programas de entrevistas, donde continúa entreteniendo a las audiencias con su humor único. En el escenario, Falcon se conecta con el público a través de su interpretación graciosa y, a veces, de contratiempos e historias cotidianas. Falcon también ha aparecido en películas y ha lanzado numerosos álbumes de comedia, incluyendo el multivolumen El Super Show Comico con Clasificacion Z y la serie Los Mejores 99 Chistes.
Read More
Sunday, Sep 22
7:00 PM
$40.00 - $85.00 (ticketing fees not included)