PAW PATROL LIVE!
Click on the event title above for ticket information.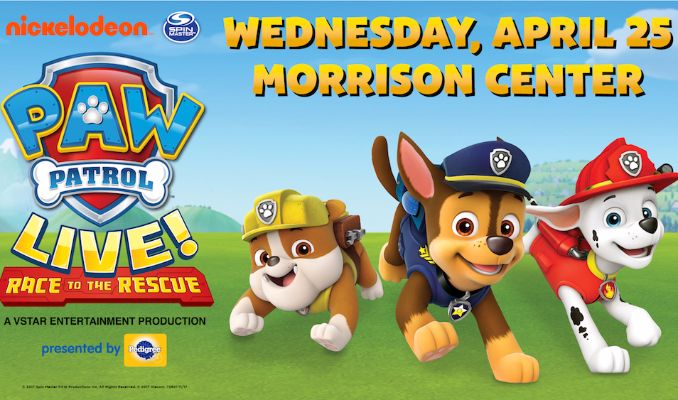 share
Event Information
Purchase a VIP Package and become a VIP – Very Important Pup! The VIP package include a premium seat, special souvenir gift and exclusive access to a Meet & Greet with Ryder and two PAW Patrol Characters after the show. All adults and children must have a VIP ticket. Pick up your VIP Packet at the VIP Check in table prior to the show.
Group discount is available for parties of 10 or more. Save $5 on base price of ticket P3-P5 only.
PAW Patrol is on a roll with its hit live tour!
It's the day of the Great Adventure Bay Race between Adventure Bay's Mayor Goodway and Foggy Bottom's Mayor Humdinger, but Mayor Goodway is nowhere to be found. PAW Patrol to the rescue! Ryder summons Marshall, Chase, Skye, Rubble, Rocky, Zuma and Everest to rescue Mayor Goodway and to run the race in her place.
Using their unique skills and teamwork, the pups show that "no job is too big, no pup is too small," and share lessons for all ages about citizenship, social skills and problem-solving as they make several heroic rescues on their race to the finish line.
All ages need a ticket for entry - babes-in-arms are not free. Please call or visit the Morrison Center Box Office to purchase a specially priced "baby" ticket as needed for infants who will have not yet had their first birthday by April 25, 2018. Special "baby" tickets are available in price levels 3-5 only.
Read More
Wednesday, Apr 25
$15.00 - $137.00 (ticketing fees not included)