THE KINGSTON TRIO & THE LIMELITERS
SOLD OUT - Click on the event title above for ticket information.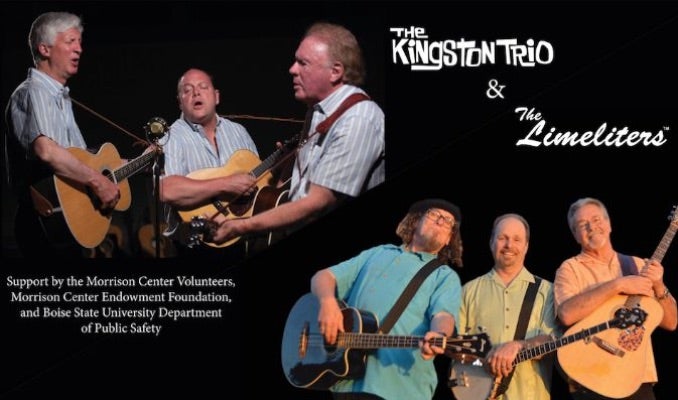 share
Event Information
FREE EVENT!
Support provided by the Morrison Center Endowment Foundation, Morrison Center Volunteers and Boise State University Department of Public Safety.
The performance is approximately two hours including intermission.
ALL TICKETS HAVE BEEN DISTRIBUTED
FREE event, but tickets are required.
Ticket holders MUST be in their seats at least 15 minutes prior to showtime - guests without tickets will be admitted, as space allows after that time.
The Kingston Trio
Legendary folk icons The Kingston Trio bring their timeless music to fans across the USA with a national tour that marks the group's 60th anniversary. Keeping it in the family, Josh Reynolds, son of original member Nick Reynolds, along with lifelong musical partners Mike Marvin and Tim Gorelangton, perform many of the trio's best-loved songs. The performances take the audience on an iconic musical journey to a time when folk music made its extraordinary ascent to the pinnacle of popular culture – and the top of the music charts. The Kingston Trio was one of the most prominent groups of the era's pop-folk boom that started in 1958 with the release of their first album and its hit recording of "Tom Dooley", which sold over three million copies as a single.
The Limeliters
The Limeliters launched their career, to universal acclaim, in 1960 at San Francisco's legendary "hungry i" night club. The original band members took the country by storm with their soaring harmonies, eclectic repertoire and sophisticated humor.The Limeliters have performed on college campuses, television, produced a Grammy nominated children's album, provided the title song to a John Wayne movie and recorded one of the most memorable advertising jingles of all time,"Things Go Better With Coke!" Current members Andy Corwin, Gaylan Taylor and Don Marovich are in perfect sync with The Limeliter tradition and remain one of the most dynamic vocal groups on the scene today.
Read More