THE UNITED STATES AIR FORCE ACADEMY BAND - THE FALCONAIRES
FREE EVENT - Click on the event title above for ticket information.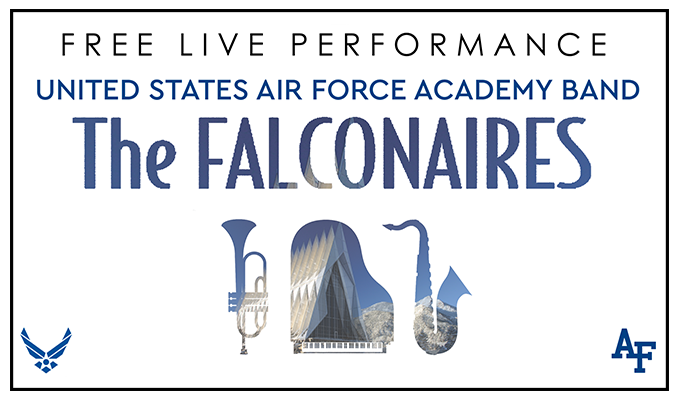 share
Event Information
Presented by The United State Air Force Academy Band
FREE EVENT - Seating is general admission and on a first-come, first-served basis. Tickets do not guarantee admission. All ticketed guests must be present. No seats can be held. Doors open at 5:45 PM, seating begins at 6:15 PM. Tickets are required for admission and patrons must be seated by 6:45 PM. Non-ticket holders will be admitted at that time and only as space allows. Tickets are available at the Morrison Center Box Office during normal business hours, Monday - Friday 10:00 AM - 5:00 PM.
**4 ticket limit**
The professional Airmen-musicians in the Falconaires Big Band follow in a long blue line of talented Air Force Academy bandsmen who are dedicated to serving our great nation and representing the young men and women at the academy training to be officers of character that will lead our Air Force. It is also our distinct privilege to support our veterans and all men and women currently serving around the globe, protecting the freedoms we all enjoy. It is because of these selfless Americans that we are able to share the music and remarkable talents of the Falconaires Big band. The versatility and professionalism of this unique ensemble reflects the great diversity and ingenuity that makes our air force the greatest air, space and cyberspace force the world has ever known. The Air Force Academy Band's Falconaires play a major role in cultivating our national heritage through America's only indigenous musical genre, jazz!
Read More
Monday, Mar 30
7:00 PM
FREE EVENT
Buy Tickets