Aug 17, 2020
WELCOME BRONCOS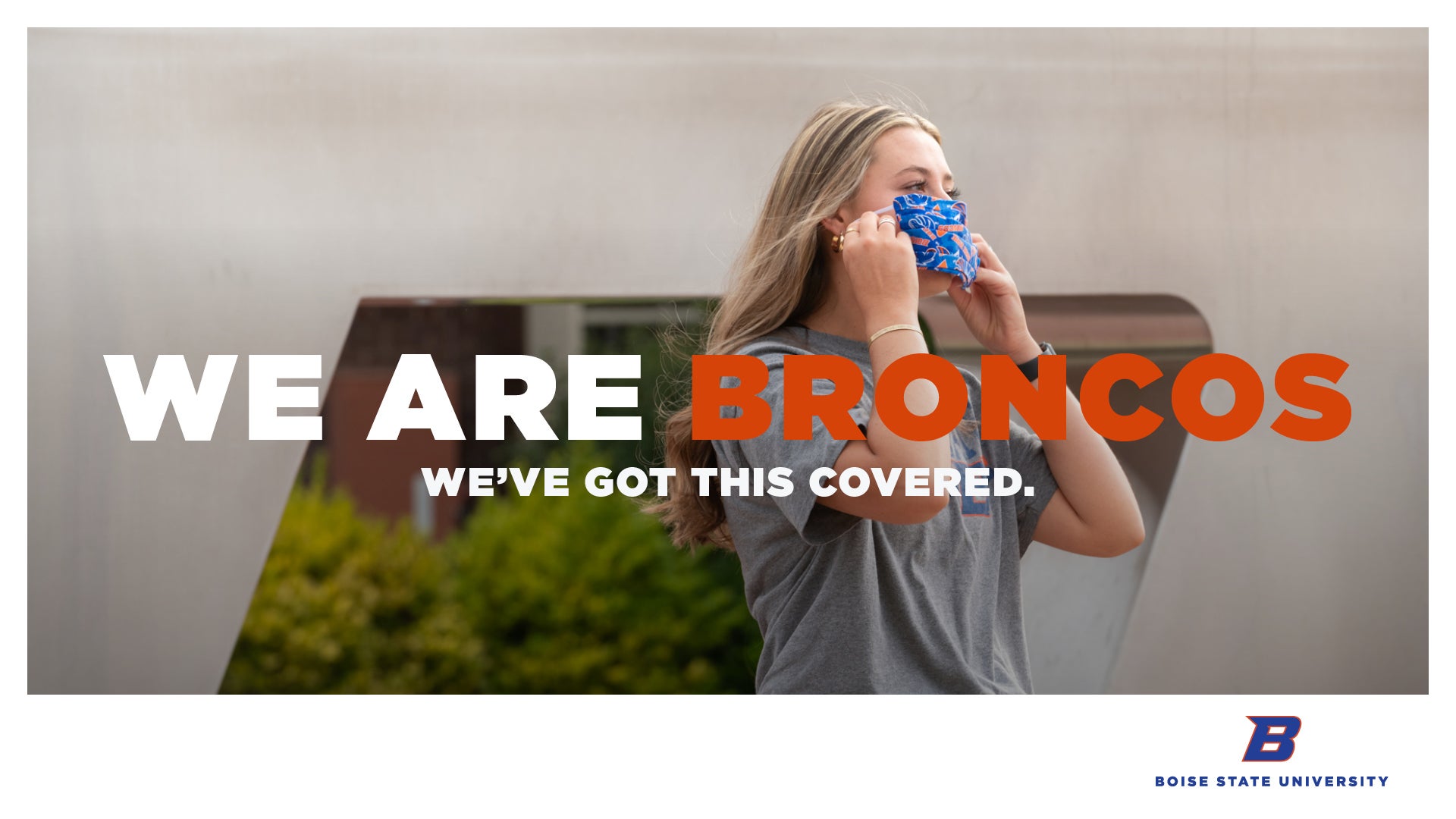 The Morrison Center is excited to welcome Boise State students for classes at our venue. Whether you've visited us before or you're a new student to campus, please review the information below to prepare for your first week of class.
For other detailed questions regarding campus reintegration, please visit Boise State University's Coronavirus Response page about all things returning to campus.
Before Class Begins:
You have an assigned seat for each class you have in the Morrison Center, and that seat will be yours for the entire semester.
Helpful tip: Your seat is designated as a "ticket" in your account. Store your ticket in your phone's wallet app for easy, consistent access.
Entering the Building:
You will enter the Morrison Center through the glass doors facing the Boise River and Greenbelt. You will not be able to enter through the academic entrance.
Doors will be locked and will open 10 minutes prior to class starting.
While waiting for doors to open, students must be wearing a mask and be 6' apart from each other.
Please have your BSU Student ID ready to show Safety Ambassadors as you enter the building.
Class Time:
Once inside the building, you will enter through the appropriate theater door and take your assigned seat immediately.
No food or drink is allowed in the space.
Masks must be worn at all times. Boise State Facilities have disposable coverings for students to use in the event you do not have your own.
If you leave the class, you will not be allowed back in.
Only the floor seating will be used as a class space; the balcony is off-limits.
Exiting the Theater:
Please wipe down your seat and exit via the opposite side of the theater from where you entered. Signs will be posted throughout the building as a reminder.
The exits will lead you to the west side of the building across from The Towers dorms.
Bathrooms:
The men's and accessible bathrooms are available on the main floor, and women's are on the 2nd floor.
Bathrooms are only available prior to class starting and are not available during or after class.
Health and Safety:
Seating has been staggered to accommodate social distancing requirements. Seats are covered in plastic and will be recovered weekly.
Our custodial staff will disinfect the space between classes once students exit the building.
New central air filters have been installed and settings have been increased for outside air and longer daily operating schedules to increase air changes. Our HVAC systems in the C-wing have also been increased to improve more outside air change and longer scheduled daily operating times.
We're excited to welcome you back to campus for a successful and safe semester ahead. We are Broncos. We've got this covered.
---
Need assistance?
For questions about accessing your ticket account or seating assignments, we encourage you to email us at [email protected] for quicker and more efficient service.
For inquiries about your class registration details, you will still need to contact the Office of the Registrar at [email protected].
Leave something behind?
The Morrison Center Lost and Found is stored backstage and monitored by building staff. If you believe you lost something in the Morrison Center you may contact us at [email protected] with the details on the item and the date lost. Once confirmed, you will need to show your ID to staff upon item pick-up. Read here for our full Lost and Found Policy for classes at the Morrison Center.
---
Note: If you feel you have a medical condition that prevents you from wearing a facial covering, students should contact the Educational Access Center at (208) 426-1583 for assistance seeking ADA or Section 504 accommodations. Faculty and staff should contact Human Resource Services at (208) 426-1616.