Box Office Information
The Morrison Center Box Office is located inside the Morrison Center on the campus of Boise State University. We face the Boise River just off of Cesar Chavez Lane. Short-term parking is available on Cesar Chavez Lane in front of the Morrison Center.
For ticketing questions, call 208-426-1110 or for administrative offices, 208-426-1609

Authorized Ticketing Provider
Ticketmaster is the authorized ticketing provider for the Morrison Center. Please use the links found in the event listing to be directed to the authorized source for tickets.
The Morrison Center Ticket Office accepts VISA, MasterCard, Discover, and American Express credit cards.
Ticketmaster accepts VISA, MasterCard, Discover, American Express, PayPal, and Ticketmaster Gift Cards.
Please contact the Morrison Center Box Office for all purchases made at the Box Office.
If you have already purchased tickets through Ticketmaster and need additional support, please reach out to the Ticketmaster Fan Support team. Log into your online Ticketmaster account and select the Live Chat feature. Live Chat is available to fans with an existing order via a computer, tablet, or mobile web browser. To reach a representative through Live Chat, simply head to the Order History option in your account and, click the Order Details link, then click on Live Chat at the bottom right of your order.

Ticketmaster Customer Service (800) 653-8000 (please note that you may experience reduced service hours and offerings at this time).
There are no refunds or exchanges.
Tickets for canceled performances will be refunded automatically to the credit card used for purchase. Please allow up to thirty days for the refund to be processed.
Group sales are available for most Broadway In Boise events. Other events may offer group sales. Please get in touch with the Morrison Center Box Office with inquiries.

Need Help Downloading Tickets?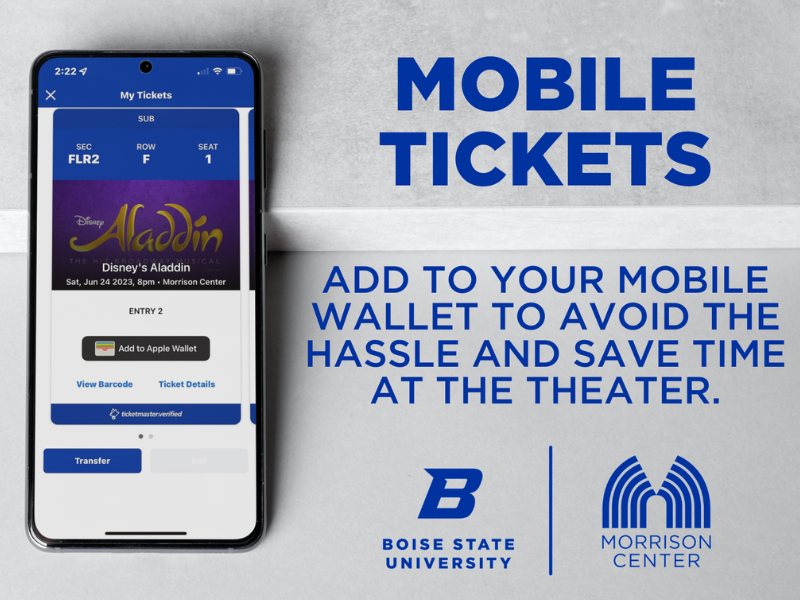 Purchase your tickets online through Ticketmaster? Download your Ticketmaster tickets and save time and hassle before the show by adding them to your mobile wallet. Contact us by calling our Box Office at 208-426-1110 or email us at mccservice@boisestate.edu with any questions!
Accessing Your Broadway in Boise Season Tickets
Access your Mobile Tickets as a Broadway in Boise Season Ticket Holder
1. Log into your account via Account Manager.
2. Sign in using your email. If it is your first time logging in, click "Forgot Password."
3. You can access, purchase, and sell tickets from your Account Manager.
4. Select the event and seat numbers to pull up your tickets.
5. You can then add them to your Apple or Google Wallet.