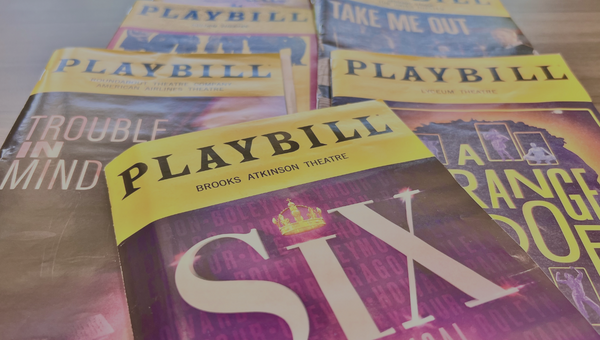 Morrison Center Executive Director is Idaho's Only Tony Awards Voter
A little over a month ago, Broadway fans from coast to coast watched as A Strange Loop won the Tony Award® for Best Musical. A fan of the hit musical, Executive Director of the Morrison Center, Laura Kendall, and Idaho's only Tony Awards voter, knew the musical deserved the night's top honor. The musical also won a 2020 Pulitzer Prize for Drama and has gained critical acclaim for its exploration of the transformation of an emerging artist as it relates to issues of identity, race, and sexuality.
What does it mean to be a Tony voter?
Being a Tony voter means seeing, analyzing, and comparing dozens of Broadway shows in New York City. Kendall saw over 35 Broadway shows throughout the year, with some rising above the rest.
Kendall says, "It is an honor to represent Idaho, Boise State University, and the Morrison Center as a Tony Voter. This season of shows has been incredible to experience, with many new voices bringing their work to Broadway for the first time. I am in awe of the talent on stage and behind the scenes and can't wait to share these new shows with Idaho audiences when they go on tour."
Each year, around 850 people are eligible to cast Tony Awards ballots. You have to be nominated to vote and receive referrals from current Tony voters. Kendall is the newest member of the Tony voters circle, indicating the quality of Broadway shows at the Morrison Center.
"We take great pride in being Idaho's home for Broadway and the largest performing arts center in the state. We bring incredible touring shows that you would see in major large cities. We are a competitive market, and the tours love coming to Boise. Our subscribers and fans travel across Idaho to see the caliber and variety of shows we offer."
In December, a historic three-week run of Hamilton broke attendance records. And rounding out the 2021/2022 season, the Morrison Center hosted the Tony Award® winning Best Musical, Dear Evan Hansen, showing that the caliber of shows keeps getting better.
Victor Hamburger, Vice President, Mountain for Broadway Across America, adds, "Boise is one of the fastest growing Broadway markets in the country, and Broadway tours continue to be an economic engine for communities driving people to local businesses, hotels, and restaurants. Laura and the incredible team at Morrison Center have built something extraordinary, and more and more producers want to bring the biggest Broadway hits to this incredible college campus."
Voting for the Tony Awards is more than just taking in a few dozen Broadway shows. It is about seeing and analyzing the details of the production, not just what's on the surface. Kendall votes on direction, performances, scenic design, costumes, lighting, choreography, and orchestrations.
The new season will start on September 27th with the 2017 Tony-nominated Best Musical, Come From Away. Season subscriptions are still available, don't miss out on your chance to see Jesus Christ Superstar, Hairspray, Pretty Woman, and Aladdin.