Morrison Center Volunteers
Thanks to the vision of Velma V. Morrison, the Center's Volunteer Organization was formed in 1984 in preparation for the grand opening.
The Mission of the Morrison Center Volunteers is to promote the Center and provide Volunteer support services and financial support to the Morrison Center for the Performing Arts. To do this, the Volunteers provide ushers, ticket scanners, guides, a gift shop, and hearing assistance for the patrons. These activities produce financial support for the Morrison Center and many thousands of hours of dedicated volunteer work.
The Morrison Center Volunteers produce a Membership Directory, publish a quarterly newsletter (The Curtain Call) and host several social events.
Are you interested in becoming a Morrison Center Volunteer?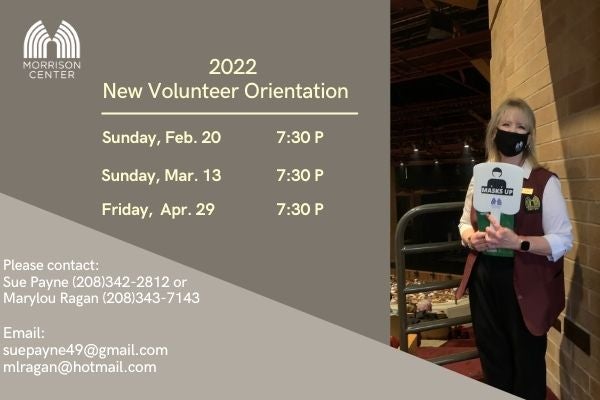 *New Orientation will be 90-minutes and held in the Founder's Room at the Morrison Center.
New Orientation - 7:30p - 8:30p
Photos and jacket/vest purchasing - 8:30p - 9:30p
Note: Membership application must be received prior to Orientation.
Volunteer Membership Application

If you would like to become a Morrison Center Volunteer, please print, complete and mail in a Membership Application, including the $10 dues. You will be required to purchase a jacket or vest as part of your uniform, complete an orientation, then you will be ready start volunteering!
Volunteer Contact Info
For more information about the Morrison Center Volunteers or for questions write to:
Morrison Center Volunteers
1910 University Drive Boise, Idaho 83725
or email info@VelmasAngels.org
We have compiled a collection of items available to assist you with questions you might have.
More Info