Directions & Parking
The Morrison Center is conveniently located on the campus of Boise State University, with a spectacular view of the Boise River.
Morrison Center Address
2201 Cesar Chavez Lane
Boise, Idaho 83725
MAIN DOORS:
To access the Main Hall enter from the double glass doors on Cesar Chavez Lane. This is the opposite side of the building from the parking lot. We suggest following the sidewalk from the Brady Parking Garage on the West side of Earle Street.
*The Academic Entrance is no longer available for Main Hall events.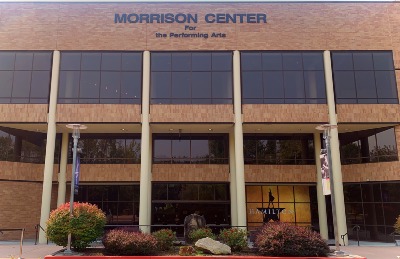 Parking
Parking is included when purchasing tickets for events in the Main Hall of the Morrison Center. In addition, the Brady Parking Garage is available for events at the Morrison Center.
Additional Parking
Additional parking will be located in the HSR lot (Health Services Riverside) across Capitol Blvd. from the Morrison Center for each show.
If you have questions or concerns with parking, please email us at [email protected].
Accessibility Parking
Accessibility drop-off is located on Caesar Chavez Lane in front of the Main Entrance to the Morrison Center. The Morrison Center has three ramp entrances located on both sides of the building from the parking lots and in front of the Main Entrance off Caesar Chavez Lane. During non-event hours, marked accessibility parking is available on the west side of the building and in the southeast lot.
Parking Services attendants will direct accessible parking for events as additional locations may vary by event.